Guide To Calculating Your Marketing ROI
We are at the halfway point in 2019 which is a good time to step back and review your marketing ROI.  But what does that mean exactly?  Well, you need to know what you spent on marketing and what you earned as a result.  But spending can mean different things and knowing what you earned as a result can also be challenging when you are marketing through many different channels.
Warren Buffet said, "Risk comes from not knowing what you are doing."
If you do not take the time to evaluate what you are doing, you will have no way of knowing if you are on track to meeting your goals or where to make adjustments.
When evaluating your marketing efforts, you need to keep it simple, keep it simple, separate and combine.
Keep it simple by knowing your limits and only collecting or reviewing data you will actually use.  What you can track and what you should track are completely different things.  Clicks do matter but don't get lost in the details.  Stick to the dollar signs when calculating marketing ROI: "In Q2 2019, our paid advertising campaign brought in a total of $$ and we spent $$ from April through June on our Google AdWords campaign."  Most law firms use more than one marketing tactic.  

Be sure to differentiate which tactics are generating which clients.

  Keep your PPC advertising budget separate from your print campaigns.  Send multiple marketing sources to different call tracking numbers. Route different ad campaigns to different landing pages.  You also need to remember that marketing campaigns do not happen in a vacuum.  

Your prospects will not choose to work with you based on a single marketing campaign. So, keep an open mind.

  Different campaigns feed each other which makes your broader marketing strategy important as well. You need to understand how your campaigns are working together.
Here's Why It Matters To You.  By regularly evaluating your marketing ROI you can identify areas of your marketing plan that are working so that your marketing budget can be used in the best possible way to attract consistent quality clients.
I make knowing your marketing ROI a central part of my service and have successfully helped many small firms make the most of their budget. Click below to set up your free consultation.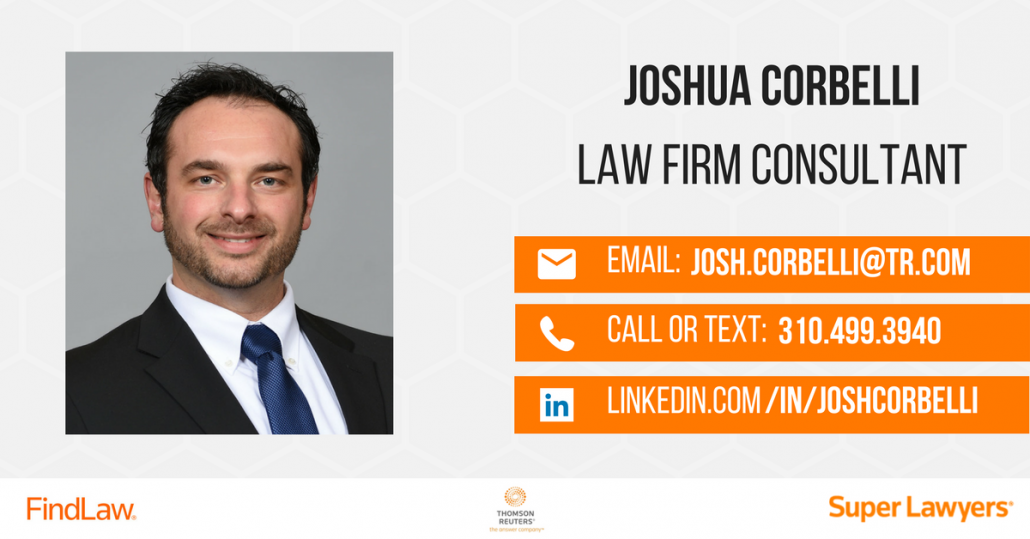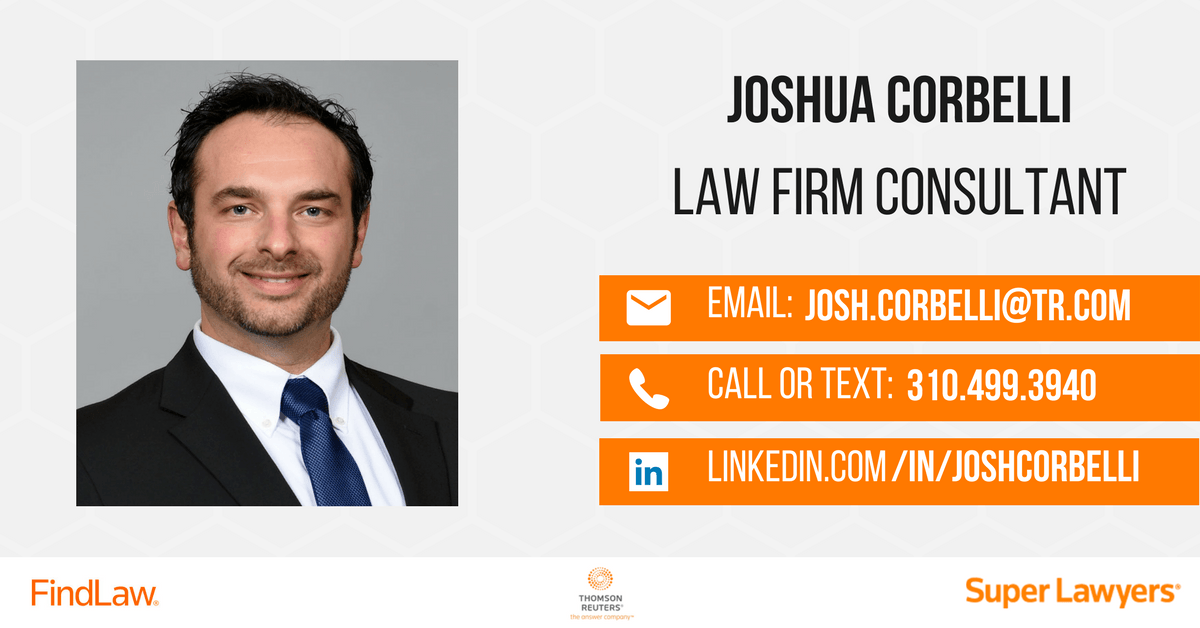 Josh is a brilliant marketer
Sergio Millas
HallPass Media
Josh is a brilliant marketer and phenomenal results-driven digital marketing strategist. He's great at bringing new ideas to the table and more importantly, making sure they are executed at a high level.
He stays on top of the trends, he's diligent and he's enjoyable to work with. I genuinely enjoy working with Josh and can recommend him as an asset to any organization looking for marketing expertise.
You would be fortunate to have Josh
Christopher Levinson
Vititoe Law Group
I have had the pleasure of knowing and working with Josh for several years now. Josh is an approachable, efficient, team leader in an incredibly competitive legal industry. When you work with Josh it quickly becomes apparent that he has an extensive knowledge of digital marketing combined with a creative and keen sense of knowing what your specific needs are, and how to best create and implement a successful marketing strategy for your company. In a world that literally changes daily, you would be fortunate to have Josh as your quarterback leading your team.
I would definitely recommend Josh
Guillermo Ortiz
Rose Klein & Marias
I've had the pleasure of working with Josh for several years. Josh has always gone above and beyond for our firm. His expertise and forwarding thinking approach to our marketing needs has helped us succeed. I would definitely recommend Josh for anyone who is looking to effectively grow their law practice.
Josh is great!
Law Offices of Lauren M. Abrams
Josh is great! He's accessible, responsive and is incredibly knowledgeable. He's always around to help me no matter how mundane my issue or stupid my question. I always enjoy meeting with him, and I've seen incredible results from his work. Cannot recommend Josh Corbelli enough.