Reaching affluent legal consumers can appear daunting. They are deliberative in their decision making and they often adhere to the adage "you get what you pay for." They are interested in an accomplished attorney with expertise in handling their specific legal needs.
That's why your Thomson Reuters Legal Marketing team recently published the playbook "Aiming High: How the Affluent Consumer Chooses An Attorney." While the report is released under the Super Lawyers brand, the tenants of the philosophy apply to attorneys at every level of their career.
Because of their deliberate approach, marketing to high-income legal consumers needs a thoughtful strategy. In this report, you will learn ways to reach this sophisticated group, including:
Managing Your Online Reputation
Showcasing Your Expertise
Leveraging Attorney Directories
Touting Your Accomplishments
If you focus on the right things in your marketing efforts, you can expand your firm's visibility with a highly valued clientele.
In our consumer report, Aiming High: How the Affluent Consumer Chooses An Attorney, we take a look at how specificity, expertise and reputation make a big difference in reaching a group with the financial wherewithal and time to properly vet and hire an attorney to answer their legal questions.
High-income legal consumers expect trustworthy and professional answers from their attorney. And in one important way, they are much like any other legal consumer: They hire the first attorney they choose to contact a majority of the time. Therefore, it's your opportunity to make sure it's you.
At the end of the day, these consumers are interested in an accomplished and specific lawyer for the job. And they are willing to search longer and take more time on their attorney search than the typical legal consumer.
Want to know more? Download the full consumer report.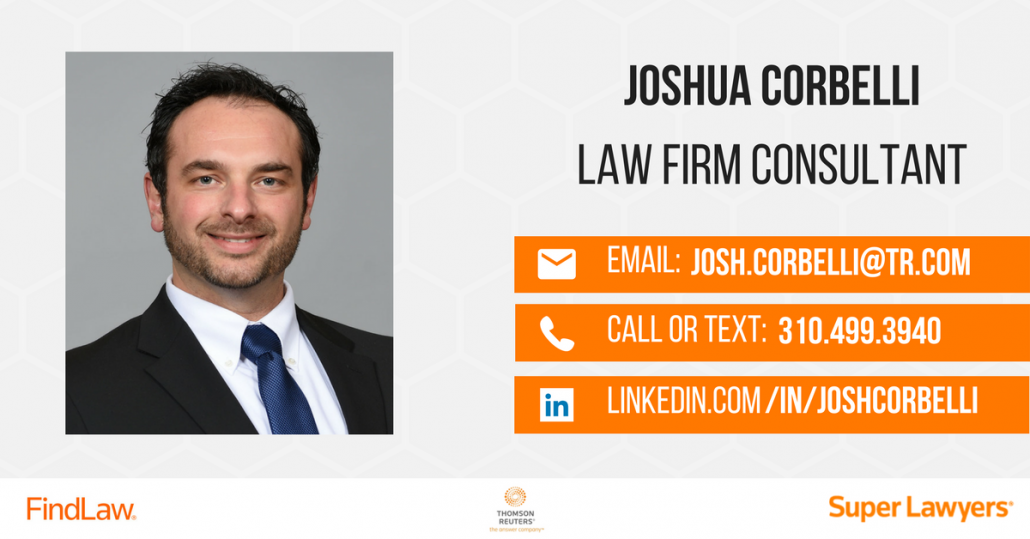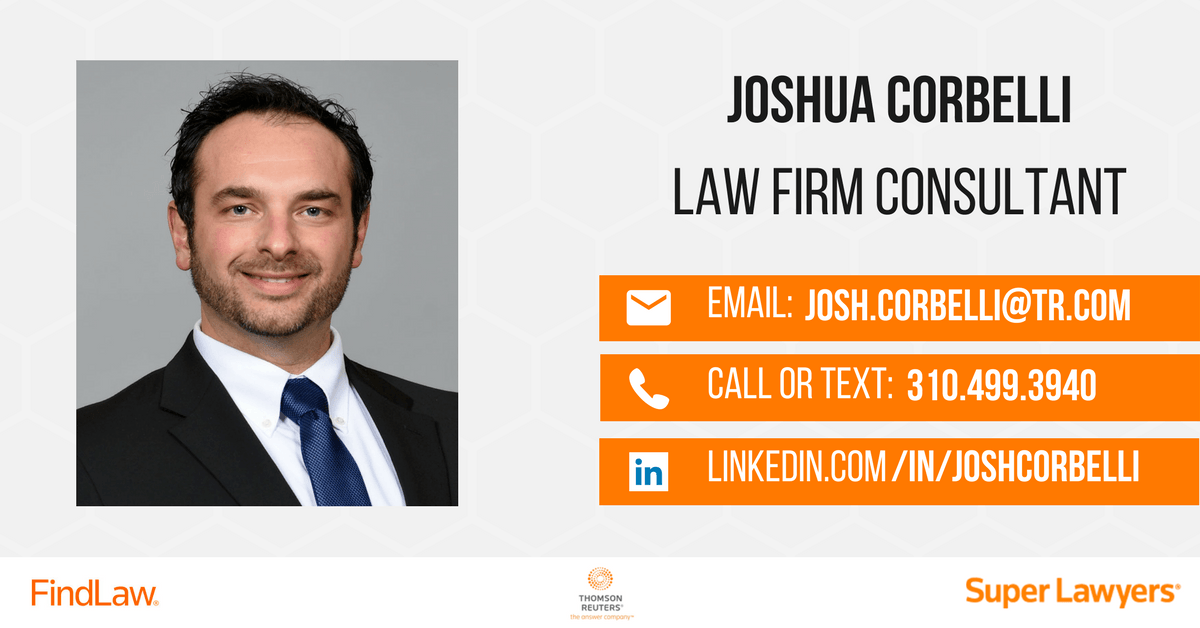 Josh is a brilliant marketer
Sergio Millas
HallPass Media
Josh is a brilliant marketer and phenomenal results-driven digital marketing strategist. He's great at bringing new ideas to the table and more importantly, making sure they are executed at a high level.
He stays on top of the trends, he's diligent and he's enjoyable to work with. I genuinely enjoy working with Josh and can recommend him as an asset to any organization looking for marketing expertise.
You would be fortunate to have Josh
Christopher Levinson
Vititoe Law Group
I have had the pleasure of knowing and working with Josh for several years now. Josh is an approachable, efficient, team leader in an incredibly competitive legal industry. When you work with Josh it quickly becomes apparent that he has an extensive knowledge of digital marketing combined with a creative and keen sense of knowing what your specific needs are, and how to best create and implement a successful marketing strategy for your company. In a world that literally changes daily, you would be fortunate to have Josh as your quarterback leading your team.
I would definitely recommend Josh
Guillermo Ortiz
Rose Klein & Marias
I've had the pleasure of working with Josh for several years. Josh has always gone above and beyond for our firm. His expertise and forwarding thinking approach to our marketing needs has helped us succeed. I would definitely recommend Josh for anyone who is looking to effectively grow their law practice.
Josh is great!
Law Offices of Lauren M. Abrams
Josh is great! He's accessible, responsive and is incredibly knowledgeable. He's always around to help me no matter how mundane my issue or stupid my question. I always enjoy meeting with him, and I've seen incredible results from his work. Cannot recommend Josh Corbelli enough.