Creating engaging, relevant, and informative content is the bane of many a business's existence. What should I write about? Is the topic already covered WAY too much?
Who will care if I write this?
Well, there's no secret here, but there's a conversation worth having. Repurposing content may sound like an additional chore…until you understand why content matters in the first place.
So let's start off with some basics.
Why should I create content?
There's an old adage in the SEO world: "Content is king." A few years ago, all search engine optimization gurus and marketing wizards proudly professed this sentiment, which was in its early day, a call to create more info on your site for Google to digest, process, and show to interested searchers. Sure, there's an element of truth to that, but it's missing some modernization.
Consider the modern consumer. They research on mobile phones and tablets. They are action-driven. They utilize voice search. They consume content on various channels – blogs, websites, but don't forget Instagram, YouTube, Facebook, and other social media platforms.
So you need to create content because people want it. But it's not ONLY about writing beautiful words on a website. People consume content differently depending on what channel they're engaging with.
Instagram, for example, is photo- and visual-driven. So compelling imagery with thoughtful comments play a role.
On Facebook, the majority of users prefer digesting information via video (quick tip: 85%+ of Facebook video is viewed with the sound off, so adding captions is a HUGE underutilized benefit).
On YouTube, nobody wants to see a boring video. Or one that is better covered by 10,000 other people. Be specific and genuine…and have something to say that's worth listening to.
What is content repurposing?
Repurposing content is the most effective way to leverage what you've created. Getting back to the different ways people want to consume information, repurposing offers you a clean path to make that a reality.
In short, repurposing content simply means that you reformat what you've created across a few different media styles. Here's an example:
With this blog post, I'll also revise it to be a little shorter and quicker to digest (hint: it will also link back to this blog post so I build authority to my site).
I will then create a short video recapping this info and place on my YouTube page (again, it will link back to this blog post).
I will then turn a version of the email newsletter into a LinkedIn Article (again, link back to this blog post).
I will then upload the same video from Google onto LinkedIn and Facebook pages.
So, with one blog post and maybe an additional hour of work (which my assistant does for me), I will have turned one item – a blog post – into content that can be consumed across 5 different channels in a variety of content types.
Of course, I will space each of these out over the course of a week, so I am regularly updating all my channels, quickly and efficiently, with relevant content to my audiences.
My Content Schedule
One of the hardest parts about creating ongoing content in a sustainable manner is being able to plan and prepare what to write/video about. Here's they VERY BASIC system I use.
Note: It works for me. There are plenty of content calendars and content planning tools out there. This format just makes sense for me, so feel free to use whatever method makes the most sense for you.
Monday: Write my weekly blog post on my website
Tuesday: Turn the post into a newsletter for Mailchimp, and schedule to deliver Wednesday morning
Wednesday: Turn the newsletter into a LinkedIn Article
Thursday: Create a video for and post to YouTube about the content of my blog post
Friday: Upload that video to my LinkedIn and Facebook posts
Here's how I figure out what to write about
I keep this process RIDICULOUSLY simple. Each week I'll pick one or two of these ideas.
Blog post topic on a question I get asked regularly.
Create a Free Template that I know my clients need to better manage their business.
Video about a tip/trick/hack I know from having been in my field for 12+ years.
Address a common myth/misconception.
Discuss a tool I've used that many of my clients would find helpful/useful in their day-to-day.
That's it.
Now, I've been out of the game for a bit, so am actively working to get back into the swing of things. But this is now public, so feel free to hold me accountable 🙂
Now for you – do you feel this helps you better understand how you can leverage content repurposing to grow your presence?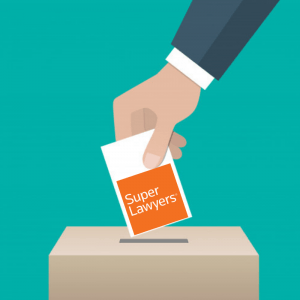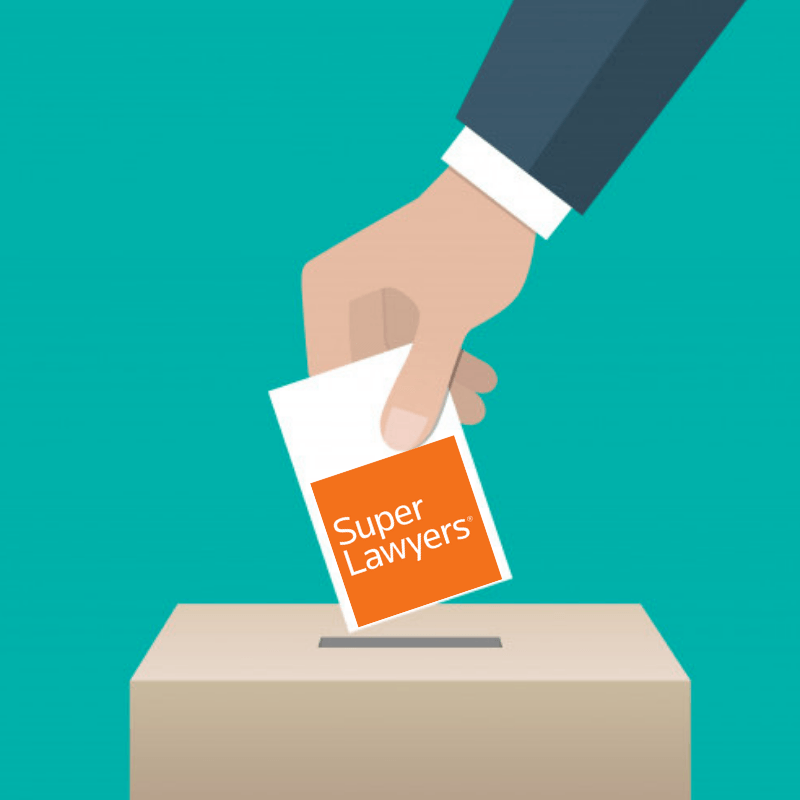 2020 Super Lawyers nomination window is open!
Even if you've been selected in the past, you need to make sure your profile is up to date to be considered. Set up a 20-minute review to make sure you're positioned for success in the selection process.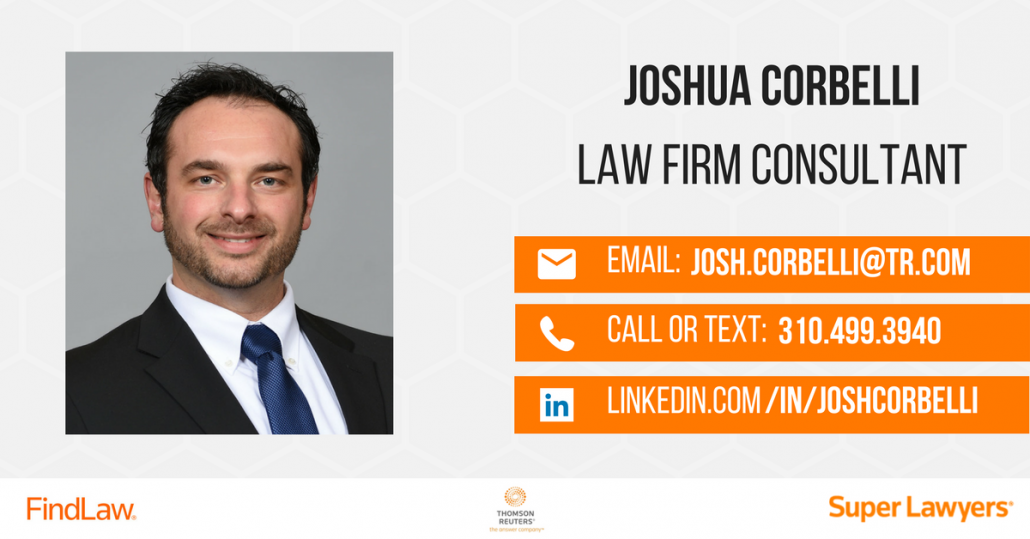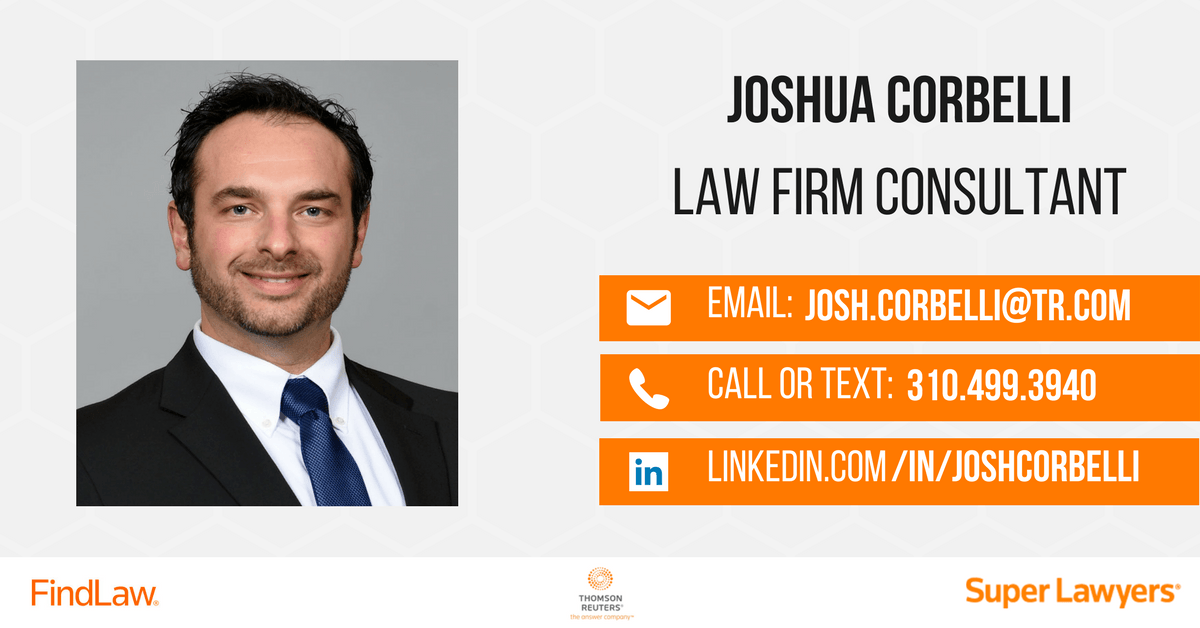 Josh is a brilliant marketer
Sergio Millas
HallPass Media
Josh is a brilliant marketer and phenomenal results-driven digital marketing strategist. He's great at bringing new ideas to the table and more importantly, making sure they are executed at a high level.
He stays on top of the trends, he's diligent and he's enjoyable to work with. I genuinely enjoy working with Josh and can recommend him as an asset to any organization looking for marketing expertise.
You would be fortunate to have Josh
Christopher Levinson
Vititoe Law Group
I have had the pleasure of knowing and working with Josh for several years now. Josh is an approachable, efficient, team leader in an incredibly competitive legal industry. When you work with Josh it quickly becomes apparent that he has an extensive knowledge of digital marketing combined with a creative and keen sense of knowing what your specific needs are, and how to best create and implement a successful marketing strategy for your company. In a world that literally changes daily, you would be fortunate to have Josh as your quarterback leading your team.
I would definitely recommend Josh
Guillermo Ortiz
Rose Klein & Marias
I've had the pleasure of working with Josh for several years. Josh has always gone above and beyond for our firm. His expertise and forwarding thinking approach to our marketing needs has helped us succeed. I would definitely recommend Josh for anyone who is looking to effectively grow their law practice.
Josh is great!
Law Offices of Lauren M. Abrams
Josh is great! He's accessible, responsive and is incredibly knowledgeable. He's always around to help me no matter how mundane my issue or stupid my question. I always enjoy meeting with him, and I've seen incredible results from his work. Cannot recommend Josh Corbelli enough.